North African Drumheads
in the early 20th century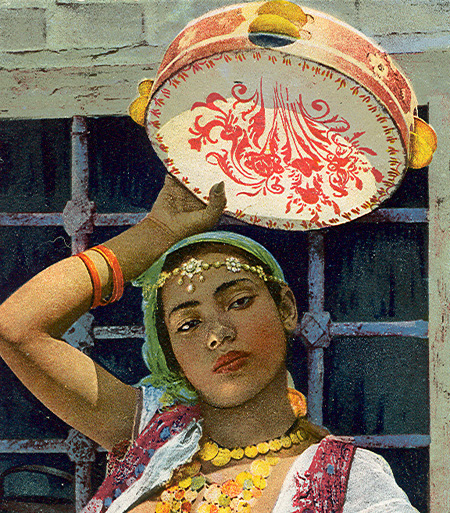 55 a Scenes et Types - Femme Mauresque
Levy and Nerudein , Paris, 1940's
Author's collection
Through the 20th century, women across North Africa and the Middle East owned and played frame drums, doumbeks, and riqs (tambourines) for their own pleasure and at festivals, parties and weddings. Both amateur and professional female musicians were skilled percussionists. They often patterned their drum heads with henna, just as they patterned their skin. Goat skin drum heads are easy to henna, and are hennaed the same way as skin is hennaed. Paints will chip, smear, or wear off a drum head; oak gall inks will damage a drum head, while henna will stain the hide and not wear, smear, chip or harm the head.
The tinted photograph above, of a Moroccan woman with a red tambourine, is probably from the 1940's. The picture has been retouched with color, but shows a floral tambourine henna pattern similar to others photographs in Morocco between 1890 and 1950. Her thumbnail appears to have been hennaed about two weeks before the photograph was taken, and there appears to be a fading remnant of henna on her palm and thumb.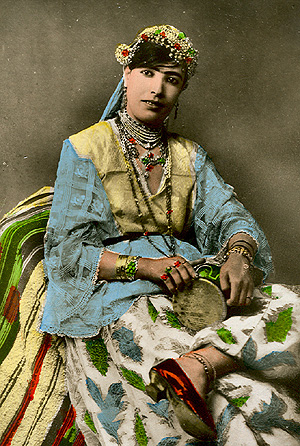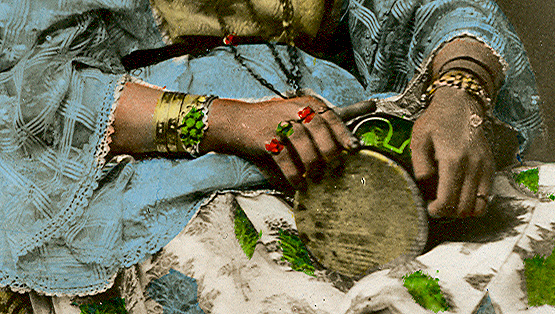 Scenes et types de l'Afrique dy Nord
14600 A - Type de Femme
Combier IMP, Macon (S. - et -L) "CIM 1920's - 1930's
Author's Collection
The above woman with a blue shirt was probably photographed in the 1920's or 1930's, but later retouched with color. Her drum head is hennaed, probably with a resist technique, probably using a cloth with lace similar to that on the sleeves of her garment. This henna technique was created with lace, netting, and gauze cloths: the cloth was tied tightly over the drumhead or skin, and thick henna paste was pressed down over the cloth, creating a reverse pattern where the henna touched the surface of the leather or skin. This resist technique was used across North Africa, Turkey, and Yemen. Her index fingernail is hennaed.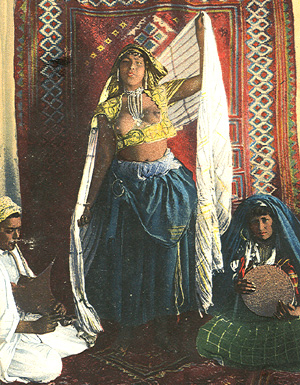 Lehnert and Landrock, Tunisia
1910 - 1920, later retouched with color
Author's Collection

This image of a dancer and two musicians was reprinted and colored many times for tourist trade in Tunisia, and much of the original photographic detail was lost in reproduction.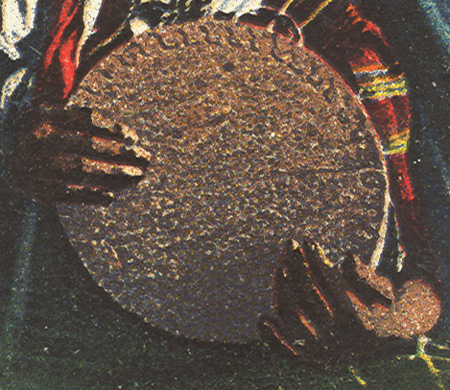 Lehnert and Landrock, Tunisia
1910 - 1920, later retouched with color
Author's Collection

Some of the original pattern on the drum is still visible in a high resolution scan, and the border pattern remains clear.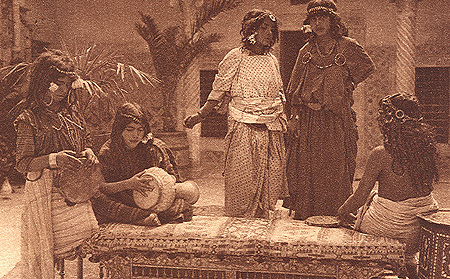 Danseuses arabes 244
Lehnert and Landrock 1910 - 1920
Author's Collection
The girls in the above photograph by Lehnart and Landrock are posed as musicians and dancers. The doumbek does not have patterns on the drum head, but the riq and frame drum at left and right are patterned. The photograph reproduction is not clear enough to determine the pattern on the drum at the left, but it is possible to make out some of the pattern of the drum by the girl with her back to the camera.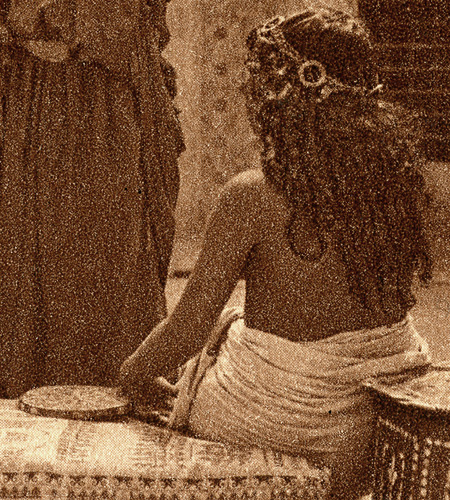 Danseuses arabes 244, detail
Lehnert and Landrock 1910 - 1920
Author's Collection
This child's drum appears to have triangular henna patterns, similar to those seen on the adjacent textile.
Return to the Henna and Leather Index
Can't find what you're looking for? Try:
The Henna Page Main Index
http://www.hennapage.com/henna/mainindex.html