The Encyclopedia of Henna


Henna is most often associated with brides, or at least with glamorous, slightly exotic young women who are objects of sexual interest.

Bridal henna traditions are certainly longstanding and widespread.

However, henna has also been used to prepare for and celebrate war and killing.
There are texts from myth, poetic, legal and eyewitness reports through history showing that henna goes far beyond the bridal adornment.

Henna has been used as part of battle, victory, guerrilla warfare, martyrdom, rebellion and taking one's life after a husband's death in battle.

Each of the links below has details on an aspect of henna and war.

If the link isn't live yet, it will be soon!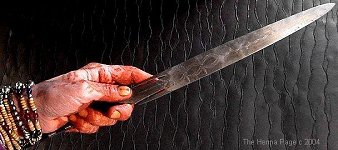 The Virgin Warrior Goddess Anath Hennas Her Hands to Celebrate Baal's Victory over Mot
The Battlefield Goddesses and Bringers of Rain


The Hennaed Guerrilla Fighters in Jerusalem, 70 CE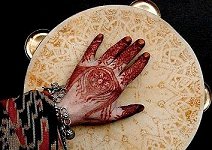 The Insurrection in the Hadramaut
Judith and Holofernes
Hennaed War Horses


Henna, Qajar Persian Military and Afghanistani Warriors
Henna and Archers


The Hand of Fatima on War flags and Standards

The Bedouin Battle Virgin


Henna and the camp followers


Henna on a Warrior's Wife for Victory or Suttee
Henna and Current
Conflic

t
s
References for this material:


Cassuto, U.
The Goddess Anath, translated from the Hebrew by Israel Abrams
The Magnes Press, The Hebrew University, Jerusalem 1951

De Moor, Johannes C.
The Seasonal Pattern in the Ugaritic Myth of Ba'lu According to the Version of Ilimilku
Verlag Butzon & Berker Kevelaer, Neukirchen – Vluyn, 1971
Field, Henry
Body-Marking in Southwestern Asia
Papers of the Peabody Museum of Archaeology and Ethnology, Harvard University
Vol. XLV, No 1
Peabody Museum, Cambridge Massachusetts, USA
Hooke, S. H.
Middle Eastern Mythology from the Assyrians to the Hebrews
Penguin Books 1963
Josephus, Wars of the Jews, IV, 9 and 10
Manchanda, Rita
Guns and Burqa, Women in the Kashmir Conflict
Women, War and Peace in South Asia: Beyond Victimhood to Agency
Sage Publications, New Delhi and London, 2001
Mernisi, F.
Beyond the Veil, Male-Female Dynamics in Modern Muslim Society
Indiana University Press. 1975
Rattray, J
Costumes and Scenery of Afghaunistan
Harrington and Remington, London, 1848
Saksena, Jogendra
"Art of Rajasthan, Henna and Floor Decorations"
Sundeep Prakashan, Delhi
Can't find what you're looking for? Try:
The Henna Page Main Index
http://www.hennapage.com/henna/mainindex.html
*"Henna, the Joyous Body Art"
the Encyclopedia of Henna
Catherine Cartwright-Jones c 2000
registered with the US Library of Congress
TXu 952-968