Re: Pebeo tips: MEGA wow!!
---
[ Follow Ups ] [ Post Followup ] [ The Henna Page Forum ] [ FAQ ]
---
Posted by Jewel on August 6, 2002 at 02:05:55:
In reply to: Re: Pebeo tips: MEGA wow!! posted by Catherine Cartwright Jones on August 6, 2002 at 01:17:08: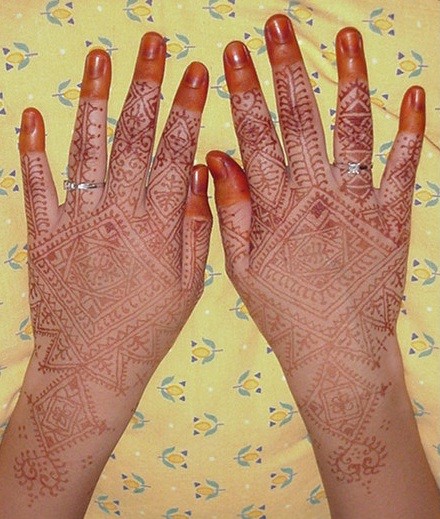 I find that my ultrafine work fades off in a couple of days. I used
to do ultrafine lines on all my brides. But because of this, now I
make my lines slightly thicker as I normally do their mehndi about 2
days before the ceremony.

On myself, I'll take care of the stain for about 2 days (for the
colour to develop fully so that I can photograph it) by using gloves
and making sure there is minimal water/detergent contact, then I
leave it be. The ultrafine lines will start to fade immediately.

I guess the dye penetration and/or the area of skin penetrated by the
dye is just too small that it fades off quickly.

Love & peace,

~Jewel~

Pic: This was taken 5 days after application. The stain has begun to
fade. Hani (my sister) hadn't bother to take care of her mehndi at
all in that 5 days.
---
Follow Ups
---