Free Body Art Greeting Cards
Print your own, send them out!
The Henna Page has print-your-own body art greeting cards ... and they're FREE! Just click the links, download, and print out!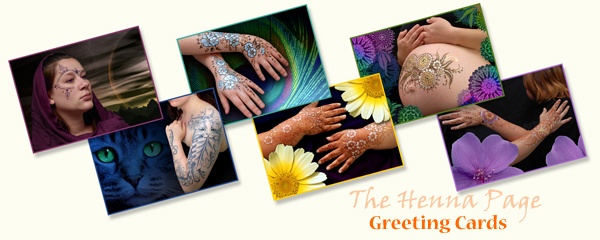 These greeting cards are a gift to you from The Henna Page and the TapDancing Lizard site group. The photographs feature body art inspired by TapDancing Lizard pattern books. The body art is by Catherine Cartwright-Jones. The photography is by Roy Jones. The graphic design and digital artwork is by Alex Morgan.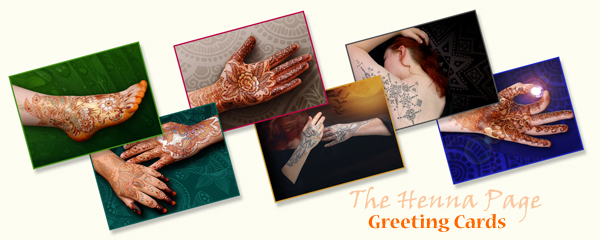 The Henna Page 2006 Greeting Card Collection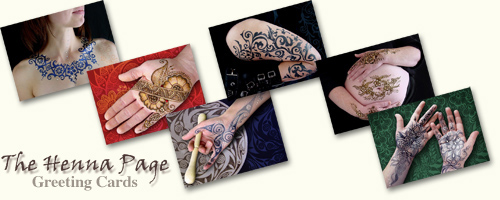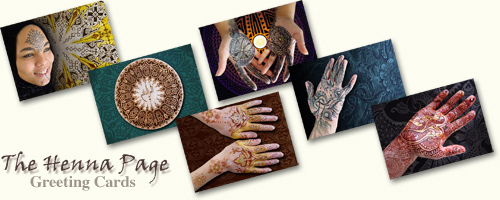 Download your and print your free greeting cards: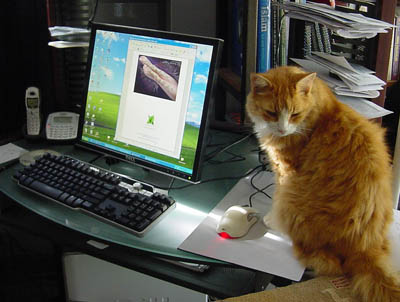 The cat is perplexed that the card appears upside down in the PDF.
When the card is folded in half, it'll look right.
Print out your greeting cards:
These cards are meant to be printed as 5 1/2" by 8 1/2" half fold cards. You can print these on any good quality 8 1/2" x 11" paper, but they'll look best on ready-to-print half fold greeting card paper. You can get half fold greeting cards and envelopes perfect for this job from
avery.com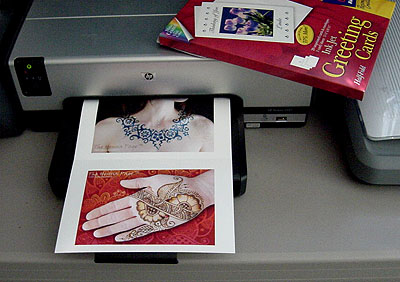 Print out the cards with your best quality printer setting.

More sources for half fold printable cards and envelopes are:

You can use a different size of paper, but you may have to do some trimming.


When you have printed out the cards, fold them in half.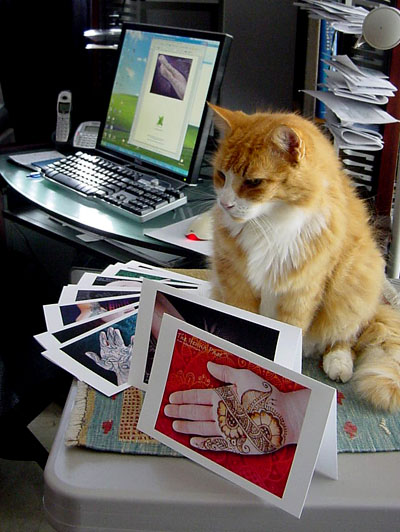 The cat approves of the completed greeting cards!


If you can't download and save your Henna Page Greeting Cards, email Catherine Cartwright-Jones at info@mehandi.com, or click HERE or on the image above, request the Henna Page Greeting Cards and free ebooks and she'll mail the calendar on a CD to you FREE , anywhere in the world! This CD will include all of The Henna Page free greeting cards, calendar, ebooks, and the appointment book.

To download and print these cards you must agree to the following terms:
The Henna Page Greeting Cards are Copyright © 2006, 2007, and 2008 TapDancing Lizard LLC. All Rights Reserved.
You may not sell, offer for sale, exchange or otherwise transfer this publication. You may make one (1) electronic copy of this publication for archival purposes. You may make one hundred thirty (130) cards from this publication for your personal use only. You may not sell, or offer these cards for sale. You may not use these images on your website.