How to use a carrot bag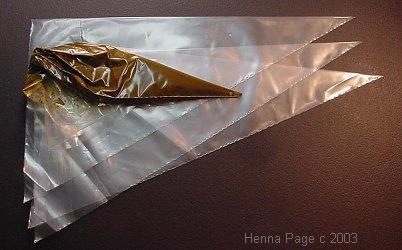 These are often called "carrot bags" because people put jelly beans in them, tie them with green ribbon, and put them in Easter Baskets. However, they are properly called 2 mil piping bags and they're used by cake decorators and confectioners. They're used with tips, with tips and couplers, or without tips, and in different ways by different henna artists.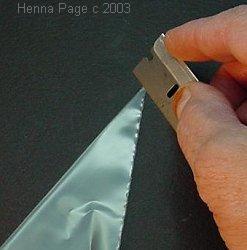 For any purpose, start by cutting the tip with a sharp razor blade, at an angle away from the seam.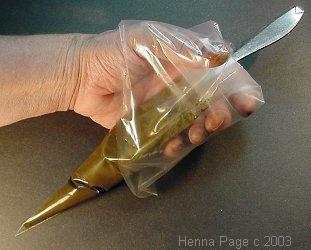 If you want to use your carrot bag without a tip, spoon in some henna.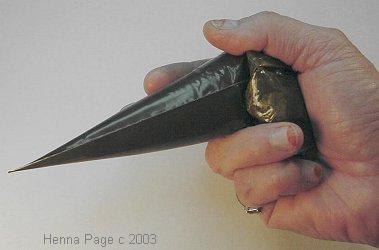 Fold down the top until you have a firm cone. Hold the bag with the seam up so it doesn't catch your henna line.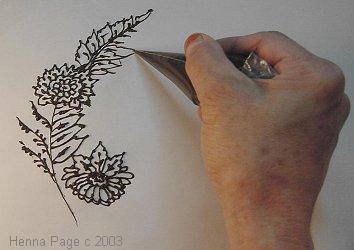 Press the cone with your palm, NOT with your thumb and fingers! Guide the cone as you would a computer mouse, not as you would a pencil. Keep the tip slightly above the skin, so you drape the line as you henna. If your paste comes out like a ribbon, soften your paste with a little more liquid. If the paste still comes out like a ribbon and annoys you, pinch the tip between your fingers to flatten the seam.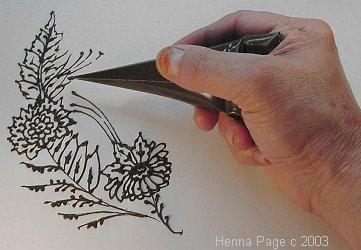 If you can get accustomed to a carrot bag, you'll find it's very easy on the hand, and you can henna for 12 hours at a stretch without hand cramps. You can cut the tip tiny or wide open to vary your line size.
You can see a video clip of filling and using a carrot bag in the Henna Page Journal, in "How to Prepare a Carrot Bag".
Want to see a video of Catherine Cartwright-Jones working with a Carrot bag? Go to "Henna Application Techniques ~ CCJ"
Back to "Apply" index
How do you find out "how"? Look in
Index of "How": Mixes and Techniques
Can't find what you want here? Try The Henna Page Main Index.