How to use a mylar or cellophane cone
A hand rolled mylar or cellophane cone is one of the best tools for the professional henna artist! They make fine lines and are easy to use.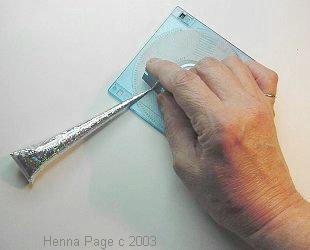 If you need to open the tip of your cone larger, use a razor blade and a hard surface to make a clean cut.
Fingernail clippers are also great for clipping the tip of the cone!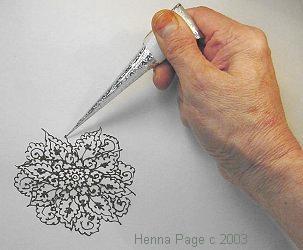 If you have the top rolled down tight, your thumb pressure will be very gentle. If your henna is perfectly sifted and strained, it will flow out easily. As you use up henna, you'll have to squeeze harder. Stop and put in more henna, or roll the top down so the henna is under pressure and flows easily again.
Some people prefer short, wide cones. Others prefer long, thin cones. Different people have different ways of taping up their cones. Get some mylar and start trying things out, find out what works best for you!