Instructions for using indigo as body art are at IndigoPage:

Indigo has been used as a body adornment almost as long as henna, since the neolithic period. Indigo can be derived from three plants: indigo (Indigofera), which grows in tropical climates, woad (Isatis tinctoria) and Dyer's Knotweed (Polygonum tinctorum) which grow in temperate climates. All three have the same dye molecule: indigo.

Indigo has been used for body adornment in Arabia, Egypt, Yemen, Oman, Iran, and indigo from woad was used in Britain, Scotland and Ireland. Persian women stained their eyebrows into one graceful double arc with indigo.
Is indigo safe for you? FD&C Blue No. 2, FDA approved blue coloring is purified indigo. It's in your food, in your soaps and shampoos, in your cosmetics. Most people have had their skin accidentally stained with indigo at least once, from wearing new Levi's, or other indigo dyed clothing, on a hot day. Excess indigo in the fabric and sweat stains skin blue.

Get supplies for safe indigo body art
at Mehandi.com,
and *almost free* samples!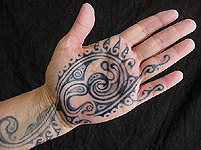 Learn much more about indigo at IndigoPage.com