This technique was used by the Jews of Kurdistan.
Turmeric is a member of the Ginger (Zingiberaceae) family, and is native to Asia. The color comes from the plant's rhizome, and is what makes mustard and curry yellow, and what makes both stain clothing. It is absolutely safe to use on skin! Turmeric was used in old Hindu bridal ceremonies to ornament the bride before henna was adopted into Hindu bridal festivities. She had with turmeric daubed on her arms, head and legs, then tumeric was rolled all over her with a spice roller until she shown with golden color.
Get some turmeric powder. Indian grocery stores have great turmeric! You can apply turmeric with a stiff bristled small brush (the sort you'd use for oil painting), or cotton swabs.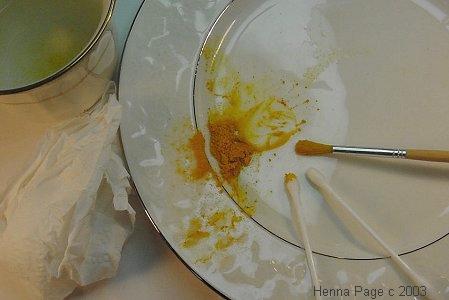 Dampen your brush or cotton swab with water. Dip it in the turmeric and rub it around until it's full of yellow. Then, rub that into the area of henna pattern you want to stain yellow. Rub in more turmeric. Let it dry and rub in more turmeric. When the turmeric area is dry, rub over the area with a tissue to polish off the excess. Don't wash the area you put turmeric on for 12 hours after applying, to give it time to penetrate and stain the skin. Wash less, or wash gently to keep your turmeric brightly colored as long as possible.
Turmeric lasts 2 days on skin, but you can make it last longer by rubbing in more turmeric each day.
Want a henna pattern book that has patterns that use henna with shading, turmeric and indigo?
Get Jewish Patterns from Kurdish Folk Art by Alex Morgan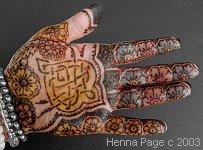 Put them all together:
How do you find out "how"? Look in
Index of "How": Mixes and Techniques
Can't find what you want here? Try The Henna Page Main Index.