The Henna Page TM Wallpaper for your Computer
The Henna Page has wallpaper for your computer .... FREE!
These wallpaper images are gift to you from The Henna Page and the TapDancing Lizard site group. The photographs feature body art inspired by TapDancing Lizard pattern books. The body art is by Catherine Cartwright-Jones. The photography is by Roy Jones The graphic design and digital artwork is by Alex Morgan.

2010 Henna Page Wallpaper Collection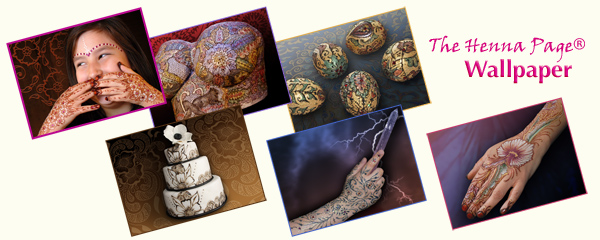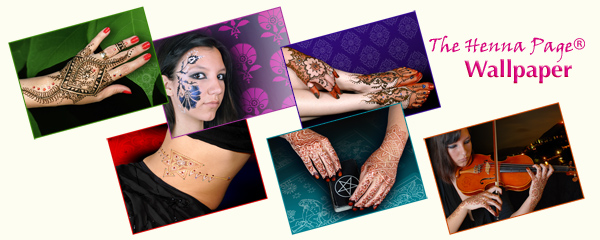 2009 Henna Page Wallpaper Collection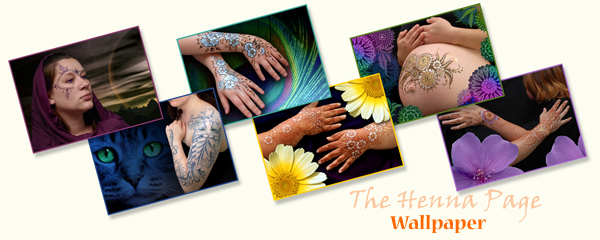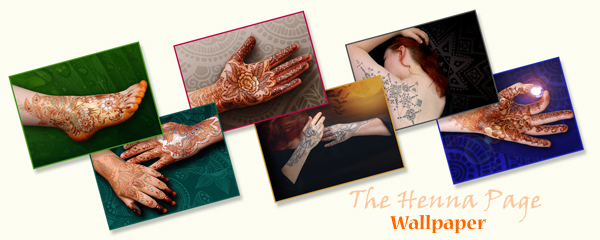 2008 Henna Page Wallpaper Collection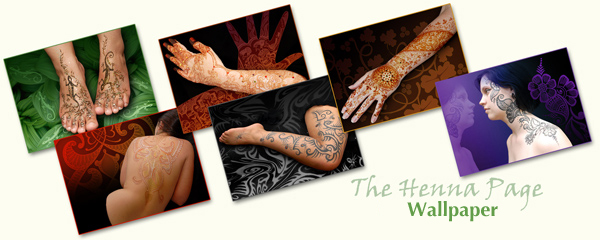 2006 HennaPage Wallpaper Collection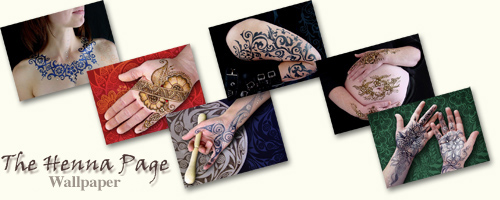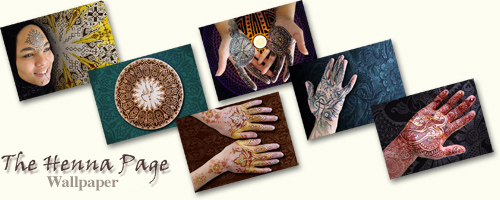 To install these images as desktop wallpaper on your computer:
Install your desktop wallpaper:
Macintosh
Save the wallpaper file to a convenient "collection" folder.
Right-click or "control-click" the desktop.
On the popup menu, click "Change Desktop Background."
In the "Desktop" window, navigate to the folder where you saved the wallpaper file using the dropdown "Collections" menu.
Double-click the icon for the wallpaper to install it as the desktop background.
In the upper part of the Desktop window, select "center" to position the image on the screen.
Close the Desktop window.
Save the wallpaper file to a convenient folder. You can use any folder you prefer, but the default folder for wallpaper on a Windows XP system is C:\WINDOWS\Web\Wallpaper.
Right-click the desktop.
On the popup menu, click "Properties."
On the "Display Properties" window, click the "Desktop" tab.
Select the wallpaper image from the list in the background window. If you don't see the file, use the "browse button to navigate to the directory where you saved the file and double-click it.
In the "Position" textfield, choose "Center" to position the image on the screen.
Click OK to close the window.
Windows will take a few seconds to change the desktop image.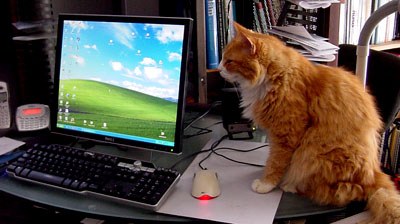 The cat has grown bored with the usual wallpaper.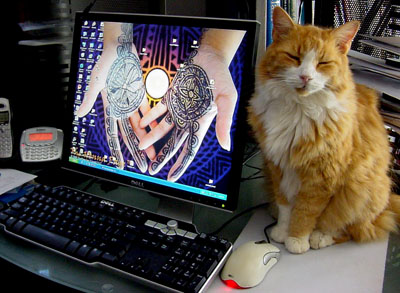 Henna Page Wallpaper is so easy to install, even your cat can do it!


To download and use this wallpaper you must agree to the following terms:

Terms of service: you must agree to these terms to download and use this file of images. All rights reserved. This is copyrighted material published by TapDancing Lizard. You may not sell, offer for sale, exchange or otherwise transfer the file or the individual images. You may create computer wallpaper with these images for your personal use only. You may make one (1) electronic copy of this file and the images therein for archival purposes. You may not sell, lend, give away, or otherwise transfer this file and/or the images therein to any other person for any reason. You may not use any of these images on your website or for any purpose other than wallpaper on your personal computer. Except for using the images as your personal computer wallpaper, and the one (1) archival copy of the file, you may not make any other copies of this publication in whole, or in part, in any form.
Catherine Cartwright-Jones
Copyright © 2005, 2006, 2007, 2008, 2009, 2010 TapDancing Lizard ® LLC
The Henna Page Publications





If you already know what you want,


Click HERE for fast shopping
and fast checkout!





Order and Help Desk


330-673-0600 (EST USA)
Leave a message with your name
and phone number and we'll call you!




Shipping, Return




and Refund Policy

Policy

Payments

Disclaimer

Copyright

Privacy Statement

Who Runs this Place?

Contact: info@mehandi.com

Ordering

Order by mail or fax: download form, print it out, fill it out, send it in!

Body Art:


Body art price list and

order form .pdf

Natural Hair and Body Care
Hair supplies price list and order form .pdf


We accept Visa, Mastercard, Discover, American Express,
check or money order.
Mail to:



Catherine Cartwright-Jones
4237 Klein Ave.
Stow, Ohio, 44224, USA





FAX: 330-673-0602




You can order with our online shopping cart.
Every product page has shopping cart buttons that you can use with your Paypal account, credit card or e-check.

You can order by email.

You can order by phone: 330-673-0600

If our phone lines are busy, leave a message or email us: info@mehandi.com and tell us


Your phone number
Your question
When to call you (including time zone)

Mehandi.com Shop for useful henna gear that's hard to find ...and might help me break even on the server bill and research expenses!


Logo by Alex Morgan: Spellstone © 2005

All material unless otherwise noted
by Catherine Cartwright-Jones © 2002, 2004, 2005, 2006, 2007, 2008, 2009, 2010
info@mehandi.com