1) This is the Open Heart

Its a heart that doesn't close at the bottom point.


2) A row of these open hearts looks like little flower petals.
3) If you tip them to the side, they also look like leaves.

4) Practice making rows of open hearts, larger and smaller, and try to get them neat and even.

5) Run them along a wavy line to make a vine.

6) Double them up.
7) Cluster open hearts to make leaves




8) A circle of open hearts makes a flower

9)
Wear your open hearts around your arm (but not on your sleeve!)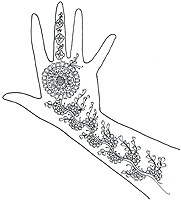 Want more open hearted patterns?
Click HERE or on the image above!
Go back to the Index of Henna Pattern Elements
Can't find what you want here? Go to the Main Index


Want to become a Certified Henna Artist? Click on the image below!