"North African" Style
Triangles~ 1



North African style patterning has several kinds of triangles. Some people interpret triangles as Tanith, an icon of an ancient North African fertility goddess. Some people interpret traingles as "brides", resembling a Moroccan bride, seated wearing her many layers of bridal clothing. Some people interpret the triangles as "eyes" to ward off the evil eye.

Triangles are often repeating elements on a base line. Draw a row of triangles and practice subdividing them.















Want to try some full patterns with triangles?
Click HERE or on the image below for more!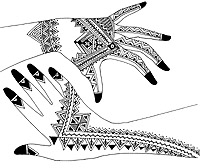 Back to the Twiddle Index Page

Want to become a Certified Henna Artist? Click on the image below!