India has seven climate regions
, based on rainfall and temperature. Northern areas near the Himalayas are very cold, and southern areas are tropical. The east has heavy rainfalls and the west is dry. Each area has different agricultural practices reflecting these differences. Henna is an ideal crop for some regions, and impossible in others.
India's agricultural cycle is created by the monsoon system
, with planting and harvesting driven by summer monsoon rainfall. The eastern arm of India has heavy monsoon rainfall, as high as 10,900mm annually, almost 10 times that of New York City, and the highest in the world. The central southern interior averages about 650mm per year, but varies regionally, with about the same rain amounts as are across France. Rajasthan gets less rain than any other part of India, and the western edge is a sand desert. Rajasthan's henna growing regions get less than 400mm precipitation per year, comparable to the mesa areas of New Mexico. When the monsoons fail Rajasthan, they bring 250mm rain or less to the arid farming regions. In these drought years, henna crops may be smaller, but have higher dye content. If henna grows in soils that are moist it is attacked by
Corticium koleroga
(Black rot disease) and by
Xanthomonas lawsonieae
(Bacterial leafspot), which damage the crop and diminish yield. If henna is grown in soils that are dry, or have long periods of drought, this is rarely a problem.


With global warming, summer highs have increased all across India
. Farmers in hot, arid regions find henna a reliable cash crop when drought and heat withers other crops, and river levels drop too low for irrigation. Hotter, dryer weather, with prolonged droughts favor high quality henna. Henna is a small tree, and stays in the ground for many years through harvest after harvest, with no need for plowing. It holds the fragile dry topsoil in place, helping maintain productive farmland. Henna also tolerates soils salinized by previous irrigation.
Henna grows through most of India
, though it is a major commercial crop only in the northwestern states where the climate is relatively hot and dry. Gujarat, Madhya Pradesh and Punjab farm henna, primarily to be sold as hair dye. Rajasthani henna farms often produce body art quality henna.
Gujarat
averages 500 mm to 700 mm rainfall per year in the northern part of the state, 2000 mm per year in the southern part. In the summer temperatures average between 25° and 43° C (77° and 109° F), but during heat waves, can rise to 48° C (118° F). The dryer, hotter areas of Gujarat produce good quality henna.
Madhya Pradesh
has more rainfall, with 1000mm in the west to 2000mm annually in the east. Summer temperatures range from 33C to 44C, which henna tolerates well, though some areas have winter minimums too cool for henna to thrive. Though Madhya Pradesh produces henna, most of it is harvested for hair dye, or the flowers for perfume oils, rather than body art quality henna.
Many areas of the Punjab
have January frosts, which will kill a henna plant, so only sheltered or southern areas have henna. Summer highs are frequently over 35C, and as high as 45C. Rainfall ranges between less than 500mm annually, near the desert area, and 2000mm in the hilly area. Some regions of Punjab are suitable for henna cultivation, but other areas are inhospitable.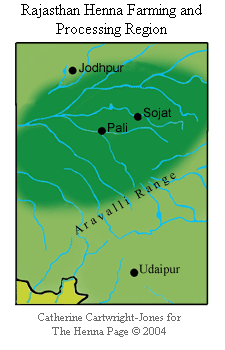 Click HERE, or on image, for larger map
The Henna Industry in Rajasthan


Rajasthan's western region
gets less than 400 mm rainfall annually, and the semi-arid Pali region gets 400m -500mm, unless the monsoon fails. 90% all rain in Pali falls during the monsoon, in two months between late June and late August, so most of the district is in permanent agricultural drought. The area cannot dependably support rain fed agriculture, and if rivers are very low, there isn't enough electricity generated at the dams to irrigate. Farmers who are assured irrigation can grow wheat, cotton, mustard, tobacco, chilies, and millet, crops common to Rajasthan. However, irrigation will always gradually salinize soil, and plowing can destroy fragile, dry soils. In severe droughts, no farmer can be assured irrigation. Henna farming has the advantage that it needs neither irrigation nor plowing.
The pre-monsoon season
, the months prior to June, is the hottest season, with temperatures of 35 to 48 C or more. This region is vulnerable to the Thar Desert encroaching from west of Jodhpur, especially during the pre-monsoon season, when dust storms from the west carry away loose topsoil. Henna, a perennial with a tenacious root system, preserves farmland. The best henna harvests are at the end of this dry season, as the clouds gather and the monsoon begins, when dye levels peak from heat and drought and new dye-intense growth bursts forth. Henna may be harvested 2, 3 or 4 times a year, with the early July crop being the best, and the February crop being the weakest.
Sojat and the surrounding areas in the Pali district of Rajasthan
, are the most intensive henna cultivation areas in India. Up to 90 percent of Rajasthan's commercial henna production is in this area. Farmers in this region have produced henna for generations, and regard it as a desirable crop, as well as part of their heritage. Much of this area is hilly, with small creeks and some rivers. Henna cuttings can be rooted on riverbanks, and then transplanted to fields after their first flowering. When they are in the fields, they grow as stunted trees, pruned 2 to 4 times a year. Henna leaves are dried, the flowers are gathered to be pressed for perfume oil, and the twigs fed to cattle. Henna requires little or no fertilizer, survives on rainwater, and requires little specialized labor. Both men and women work the fields. Women are often responsible for weeding and harvesting; men take care of soil preparation and transportation. A family can often manage their own cultivation and harvest. Henna will survive a drought season that would ruin other crops, and is therefore highly attractive to farmers.
According to The Indian Express Newspapers
in 1998, Rajasthan had 22,6167 hectares (55,886 acres, or nearly 90 square miles) cultivated with henna, mostly surrounding Sojat. This intensive henna growing area produced 21,000 tons of high quality henna, mostly processed in Sojat, where over 100 henna processing units were in operation. The processors paid 400 to 700 Rs per quintal (10 kg or about 5 pounds) for dried henna leaves depending on quality. Income per capita in Rajasthan in 1998 was 9819 Rs, so income from two hectares of henna leaves could support one person.
Farmers have increased their henna plantings each year since
, with the Asian Development Bank lending money and expertise to farmers so they can increase production, to raise production over a tonne per hectare, and to reduce labor. The world demand for high quality henna is increasing, both for safe hair dyes, and for body art quality henna.
The Indian henna export cities
of Udaipur, Delhi, Jodphur, Jaipur, Calcutta, Mumbai (Bombay) and Ahamadabad have had an advantage over other henna producing countries such as Iran and Yemen. Indian business often uses English as a second language, so they are able to correspond with clients in the west with little misunderstanding. These cities have relatively stable internet hosting, and can call upon competent web designers, to display their products. Shipments from India do not undergo the intensive security checks as do those from Iran and Yemen. India has relatively good diplomatic relations with the west, and this facilitates economic and communication flow. India has a banking platform that enables them to conduct financial transactions with the west. These infrastructure advantages have allowed the west to have relatively easy henna transactions with India, as opposed to poor or near impossible transactions with Iran, Yemen, Nigeria, Mauritania, and Sudan, where farmers also produce high quality henna. This advantage is so great, that many western people believe henna is produced ONLY in India, simply because that is the most accessible henna.
References:

Duke, J.A., and du Cellier, J.L.
The Henna Growing States: Gujarat, Rajasthan, Madhya Pradesh, and Punjab
CRC Handbook of Alternative Cash Crops. CRC press USA 1993.

Khandelwal, S.K.; Gupta, N.K.; Sahu, M. P.
Effect of plant growth regulators on growth, yield and essential oil production of henna (Lawsonia inermis L.)
The Journal of Horticultural Science and Biotechnology January 2002, vol. 77, no. 1, pp. 67-72(6)

Library of congress, Data on India as of September 1995

Jain, MP
Rajasthan Government plants to step up area under henna cultivation
The Indian Express, July 20, 1998
Singh, H.; Mishra, D.; Nahar, N.M
Energy use pattern in production agriculture of a typical village in arid zone, India––part I
Energy Conversion and Management Volume: 43, Issue: 16, November, 2002. pp. 2275-2286.

Singh, H.; Mishra, D.; Nahar,N.M.; Ranjan, M
Energy use pattern in production agriculture of a typical village in arid zone India: part II
Energy Conversion and Management 44 (2003) 1053–1067
Division of Agricultural Engineering and Energy, Central Arid Zone Research Institute, Jodhpur 342 003, Rajasthan, India

Saksena, J.
Art of Rajasthan: Henna and Floor Decorations
sundeep Prakashan, Delhi

Back to the Encyclopedia of Henna Index

Can't find what you want here?
Try The Henna Page Main Index.