. She recorded a resist technique used by older women in the village. This unusual henna technique may be the key to interpreting depictions of Turkish henna work from the 14th to the 19th century
Rahime, one of the older women in the village prepared henna for the women's Eid celebration in February 2005, and showed Arlene Brill how they have applied henna in their village since times before she can remember.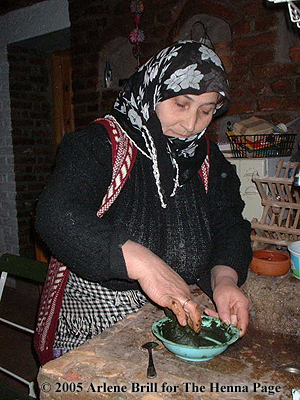 Rahime mixes henna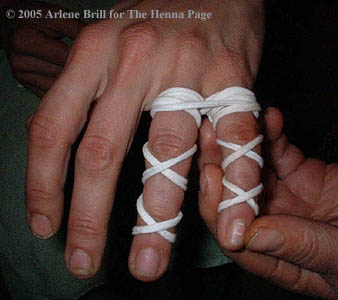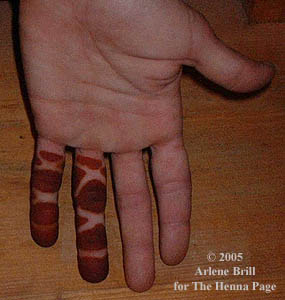 Rahime wraps cord in a pattern around her fingers, applies henna over that, wraps it and leaves it on for a few hours. The cord makes a resist pattern on the fingers.
More complex patterns can be created: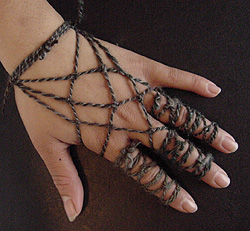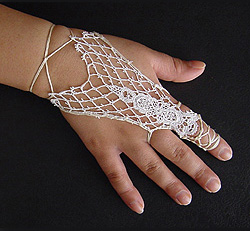 Cord can be knotted and wrapped around the hand like macrame. When the cord resist is secure, apply henna over it and wrap it, taking care to not move the cord. Netting and lace can be stretched across the hand for more delicate patterns. The cord defines areas for henna, and is an effective resist if the hand is kept immobile, and the cord is firmly tied.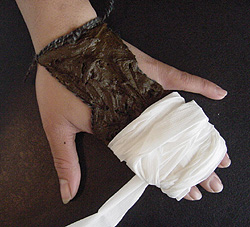 Representations of Turkish henna from the Turkoman period through the 19th century shows patterning consistent with thread resist work.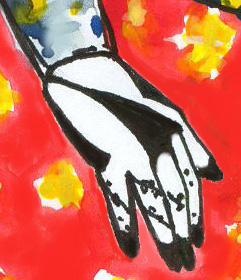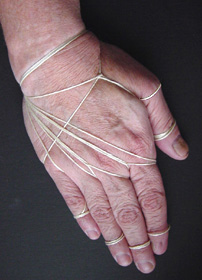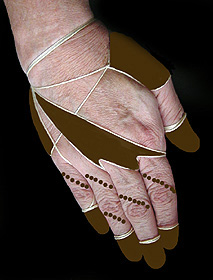 Above, left, is a detail of hennaed hand from
Royal Couple in a Courtyard
from the Ravzat el-Usak of Arifi, c 1560, Harvard University Art Museums, Fol. 23a. This may be reconstructed with the cord resist technique, and some simple patterning, as shown in the pictures center and right. In the original painting, the hand is less than 1/2" long, so the pattern may have included more complexity than depicted.


See "Ottoman Henna" , "Henna at the End of the Ottoman Empire" and "Turkoman Henna" articles to see depictions of Turkish henna possibly created with cord resist technique.

Return to the article index of Turkish Henna