How to make a mylar or cellophane wrap cone:
A hand rolled mylar or cellophane wrap cone is one of the best tools for the professional henna artist! They make fine lines and are easy to use.
Want to watch a cone-rolling video? Go Here!

Find "Mylar Holowrap", "Prismatic Gift Wrap" .... or whatever mylar gift wrap is called by the retailer. This gift wrap does not have a paper backing. It's silvery on front and back, but it is not metal. It's a firm, but not crinkly, mylar. Florist wrap does just fine, and cellophane wrap is ok as long as it's not too thin. Mylar tissue is thinner, more difficult to work with. Mylar wrap is firm enough to make a tight, hard tip so you can draw fine precise henna lines. If you get some samples, it's easier to go look for it at the store! Mylar and cellophane wraps make beautiful cones!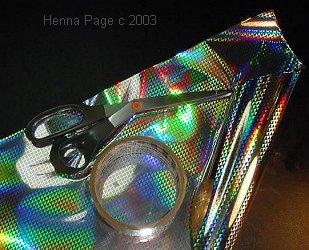 You'll need scissors, tape and mylar wrap.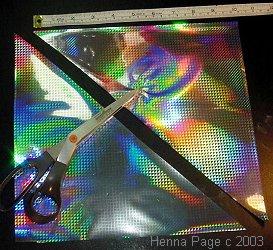 Some people like large cones from a 12" square (33 cm). Some people like medium cones from a 9" square (25 cm). Some people like little cones from a 6" square (15 cm). Try a few sizes and see what you like. Cut the square diagonally in half.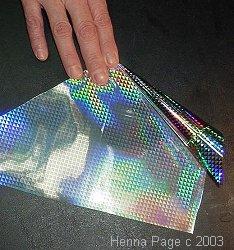 Lick your finger and put it in the center of the diagonal. Start twirling the cone against your fingertip.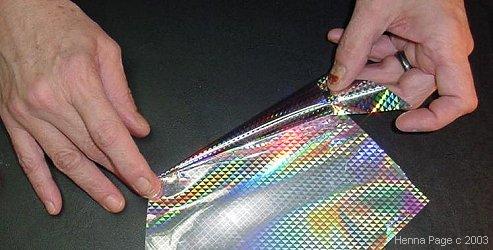 Keep pivoting the twirl against your fingertip, and keep twirling to make the cone.
Keep going, and keep your fingertip down tight. Twirl the cone on around.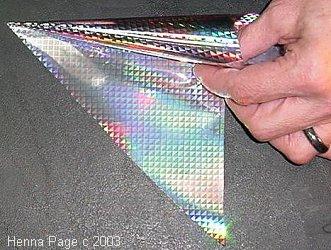 Keep going until you have twirled the triangle into a cone with a tight tip.