"Magic Trick Henna"
Double Application Henna
also known as Algerian Technique
In 19th century Algeria, Morocco, Yemen and Kurdistan, people applied henna two or more times for a multicolor effect, and there are a few paintings of Algerian women that show the results.
There is more than one way to do double application henna. In Morocco and Algeria, the lighter color was applied first, followed by a darker color. Wealthy 19th century families in these communities extended the night of the henna for several days. Every night, the bride had more henna, which created multiple tone effects. If you apply the light tone first, and the dark tone a day later, the henna patterns will be invisible at first, then they will gradually appear as if a "Magic Trick"!
I first painted in large areas of henna, let that dry, then washed off the henna. This created a light to medium stain, because the henna was removed quickly. This minimized henna saturation and stalled the oxidation process. In the picture below, you can see the rust color of henna that was applied, then washed off 15 minutes later.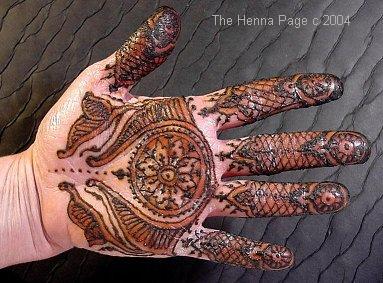 The next day, I applied more henna, sealed it, and left on overnight. Above, you can see the second application of henna paste over the first application that had been removed.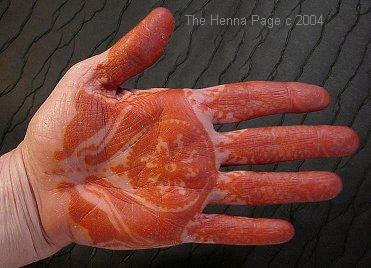 When second layer of henna was removed, the pattern was barely visible.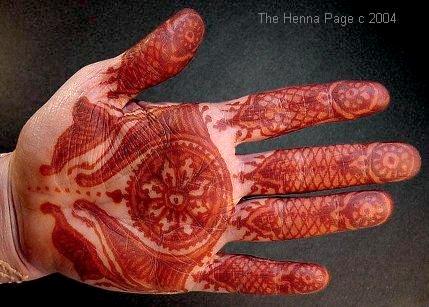 During that day, the pattern began to emerge as the second henna application oxidized to deep red.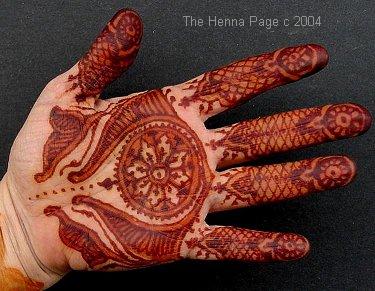 On the second day first henna application remained pale while the second application grew darker.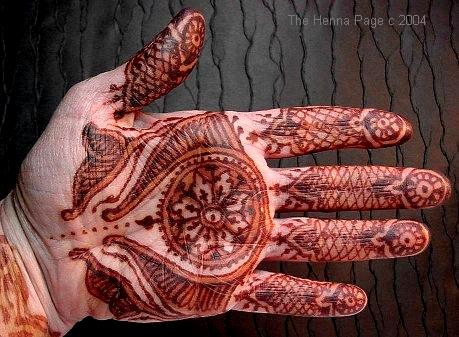 On the third day after application, the pattern is clearly visible, appearing like a "Magic Trick"!
Back to Shading Index
Back to "more colors" index

Back to "How" index
How do you find out "how"? Look in
Index of "How": Mixes and Techniques
Can't find what you want here? Try The Henna Page Main Index.