Seal your henna with a sparkly glue mix!
Some Henna Page artists mix up white glue, thin it out with water, mix in body glitter, and use that to seal henna.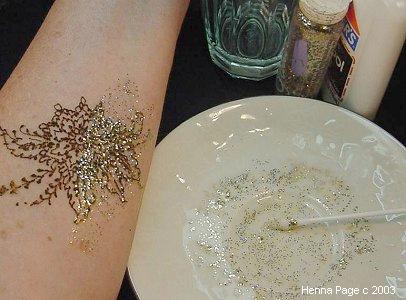 You can make it fresh and apply it carefully with a cotton swab, or you can make it ahead of time and put it in a cleaned out small glue bottle, and apply it straight from the bottle. Be sure your henna is completely dry, but not cracking, before you apply your sparkly glue mix. Apply carefully, so you don't spoil the henna pattern, and blow dry it quickly so the pattern doesn't spread or run.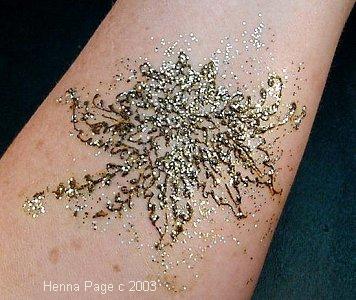 Sparkly glue mixes have the advantages of making the henna paste pretty while it's on the skin. It's inexpensive to make, easy to use as long as you apply it carefully and dry it quickly. Glue mixes do not attract stinging insects as lemon/sugar mixes do.
Want to know more about seals, what people use and how they use them? Ask the henna artists on the Henna Page Forum!
BellaNoir: I like "Glitter Goop" better than LS because it dries without being sticky to touch or attracting bugs. I make mine with 3 parts hair gel (used Suave Apple Mega Hold for the nice smell), to 1 part Elmers washable glue, and added in my own 1/4 oz. glitter found at Michaels (the embossing kind has the finest powder).

Back to "Seal" index
Can't find what you want here? Try The Henna Page Main Index.