Seal Your Henna!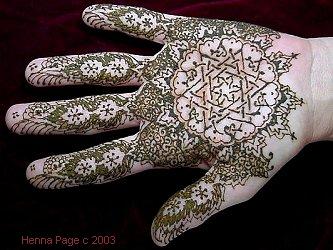 Henna has to stay on your skin for a while to make a good stain. If it can stay there for a few hours or overnight without getting messed up, you'll get a great stain! If the henna cracks and falls off too soon, all your hard work of making a beautiful pattern is wasted. Therefore ... seal your henna!
The Henna Page Artists have many favorite seals. Some seals are ideal for one purpose, some are better for another.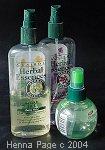 Pump spray hair gel
is a safe, easy, durable, no-fail seal!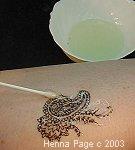 Some people use lemon/sugar to seal their henna.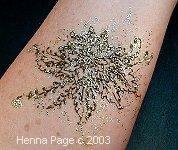 Some people make their own sparkly glue mix to seal henna.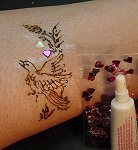 Some people use peel-off facial masque and Liquid Latex.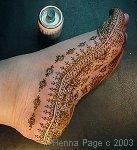 Some people use New-Skin Liquid Bandage.

All of these seals have strengths and weaknesses. If you know how to use all of them, you'll be able to choose the best seal for a specific situation.
Want to know more about seals, what people use and how they use them? Ask the henna artists on the Henna Page Forum!

Back to "Wrap and Seal" index
Can't find what you want here? Try The Henna Page Main Index.