Seal Your Henna with New Skin!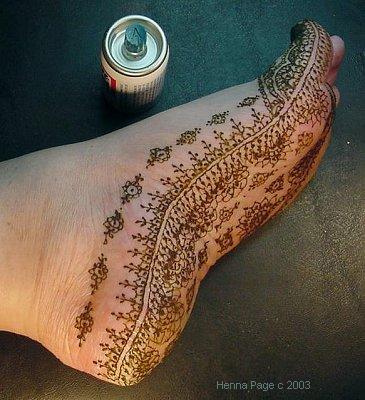 If you have the most delicate henna pattern, it needs the most protection, especially if its on the most difficult body part ... use New-Skin Liquid Bandage Spray by Med-Tech. This spray on fixative will seal the finest lines without disturbing them, which is always a risk with other sealers. It dries quickly. It will flex with bending body parts, so it is ideal for feet. Two applications makes a seal firm enough for you to walk around without spoiling the henna! If you want perfectly hennaed soles, henna them before bedtime. As always, make sure the henna is completely dry, but not cracking. Seal it twice with New-Skin, either the liquid or the brush-on. Let the seal dry between applications. Pull on an old sock. Go on to bed! Next morning, your henna should still be perfect! You can remove New-Skin easily with nail polish remover.
The advantage to New-Skin spray is that the pattern will stay undisturbed as you spray it on. You can steam the henna repeatedly to maximize color and New-Skin will hold the henna in place. New-Skin doesn't obscure the henna pattern when its prayed on and dried; the skin just looks "varnished". The disadvantages to New-Skin are that it's difficult to remove unless you go after it generously with nail polish remover (which does not hurt the henna stain at all), and that many people don't like the smell. It smells like a fingernail polish factory, and you must use it in a well-ventilated area!. Do not use New-Skin spray in a closed room.

Karin: I use cheap non-areosol hairspray, like Rave, and it does nearly as good a job as New Skin!

Want to know more about seals, what people use and how they use them? Ask the henna artists on the Henna Page Forum!

Back to "Wrap and Seal" index
Can't find what you want here? Try The Henna Page Main Index.