Monday Media
Books, Articles, Films and Music
The Henna Page participants' favorite resouces
for henna information and inspiration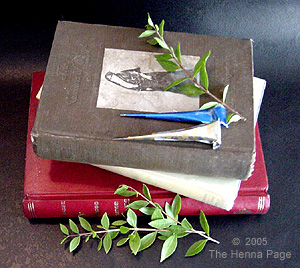 New lists added regularly! Come back and visit often!



Do you want to read or view something that helps you do better henna work? The articles, books, music and videos listed in "Monday Media" aren't necessarily about henna, but they do help you understand more about henna using cultures, the function of imagery and adornment, related body arts, something listed here may simply help you enjoy your henna work more! These books, articles, music and videos may be anthropological, historical, scientific or popular. These are generally not "well known", so you'll find things here you probably haven't seen or thought of before. We hope "Monday Media" will offer you a new perspectives for your henna work. When possible, we've included a link to where you can purchase or access these materials.



Would you like to add your selections to this list and get treats?

Go HERE to find out how!