Tribbles
Start with one or two, and suddenly they're everywhere!












Back to the Tribble Index


Go back to the Index of Henna Pattern Elements

Want to become a Certified Henna Artist? Click on the image below!


Want great downloadable henna pattern books?
Visit TapDancing Lizard.com!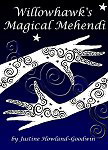 Can't find what you want here?
Go to the Main Index!