Henna from two areas in Yemen: comparison of stain development and fading process with and without cajeput essential oil.
Catherine Cartwright Jones 2002
This test attempts to document the difference between hennaes grown in an area of greater or lesser rainfall, and the difference in peak color and fade between terped and plain henna paste.
Shihri and Harazi henna are both grown in Yemen. Shirhi is from the Hadramaut, where there is less rainfall than the area where Harazi is grown. Both were harvested at the same time, shipped under the same conditions. Both were sifted through a Fred-O-Matic prior to paste preparation.
The paste was mixed in the same way for each, just with lemon juice. This paste was left for 12 hours, and then cajeput essential oil was added, for its known high monoterpene alcohol content. The paste was applied 12 hours after that at 3 pm. The paste was lightly sealed with "New Skin", and parts fell off between 5 and 7 pm. I steamed this hand 4 times during the evening between 7 and 11 pm. All paste was removed the following morning.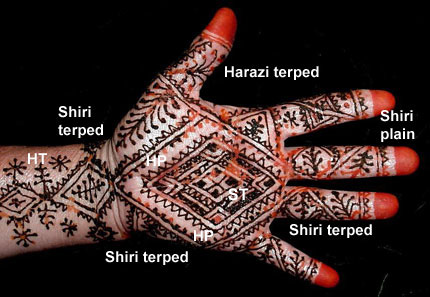 HP designates Harazi Plain. HT designates Harazi terped. SP designates Shihri plain. ST designates Shiri terped.
The dots around the palm diamond were Harazi plain. These dots are immediately adjacent to a Shihri terped line.
Observations:
The calloused areas of the hand attain a darker peak color of henna with or without addition of cajeput essential oil than thin-skinned areas. Henna pastes mixed with cajeput essential oil achieve a darker stain peak color than plain henna paste. Thin lines do not get as dark as thick lines in most cases. Thick lines hold peak color longer than thin lines in most cases.
Conclusions:
Palmar skin is highly variable, more calloused areas hold stain darker, longer, than thin-skinned areas. Shihri henna seems to produce a darker, more long lasting stain than Harazi on most palmar areas. Henna grown in an area of lesser rainfall may produce a higher concentration of dye molecules. Addition of Cajeput essential oil improves stain darkening in all areas of the palmar and wrist skin. Cajeput essential oil does not shorten duration of henna stain.