How to use a jac bottle

Jac bottles are easy for beginners, because the drawing motion is like a pencil. They were developed for textile artists who use them to apply resists for silk painting. If you get a clog stuck in a jac tip, its a pain in the neck to pick out with a needle. If you don't buy perfectly sifted henna, sift and strain it before putting it in a jac bottle!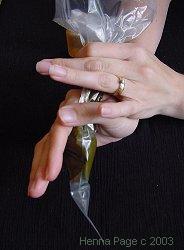 Spoon your henna paste into a carrot bag. Cut off the carrot bag tip, and squeeze the henna down into the bag. All of this is messy, so wear disposable gloves if you want your hands to stay looking nice.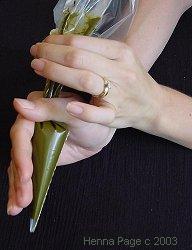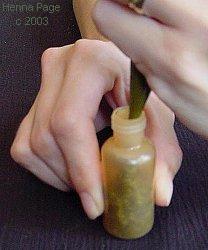 Cut off enough of the tip so you can squeeze the henna out easily. Take the top off a jac bottle, and squeeze in the henna paste. Whack the bottle down on the table several times to settle the henna down into the bottle. Keep filling until the bottle is totally full. Then put the cap and tip back on.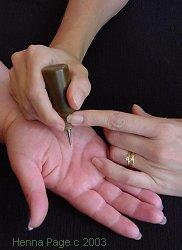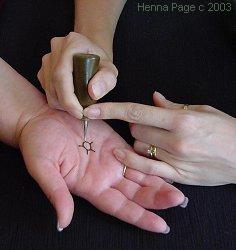 Steady your hand, and squeeze to get the henna out. When the bottle gets hard to squeeze, add more henna.
A jac bottle is a great beginner's tool, but professionals often find they can't use jac bottles for long weekend jobs without harming their thumbs with the constant pressure and some get repetitive stress injuries.
Back to "Apply" index
Can't find what you want here? Try The Henna Page Main Index.