How to apply henna with a Moroccan syringe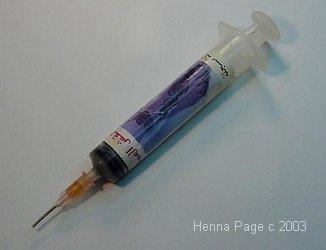 Moroccan henna artists use a syringe more than any other tool. They snap the tip off the syringe's needle, or purchase specially prepared henna syringes. The needle does NOT penetrate the skin! It is simply a tool to extrude the henna ONTO the skin as any other henna tool does.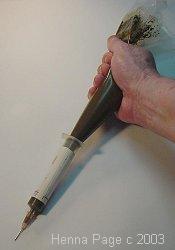 Sift and strain your henna paste! You CANNOT get a clog out of this tip! Mix the henna paste to the consistency of slightly slimy yogurt. Stringy henna, such as Yemeni or Moroccan henna is ideal for this technique. Put the henna into the syringe with a carrot bag.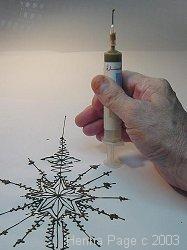 Hold the syringe in a "stabbing" position, and press the plunger with your thumb. If your henna is perfectly sifted, strained and stringy, it will glide out of the needle easily, so you can drape long straight lines. When you get more accustomed to using the tool, and if your thumb gets tired, you can tap the plunger, then draw quickly as the henna thread flows out.
Back to "Apply" index
Can't find what you want here? Try The Henna Page Main Index.