You can apply gilding and glitter pastes by themselves, without henna. Ben Nye Lumiere powder comes in 21 colors, so you can gild in any color you wish! This is ideal for women who want beautiful adornment to go with their clothing, but do not want henna stains fading gradually over several weeks. Gilding and glitter pastes do NOT stain the skin; they wash away with soap and water.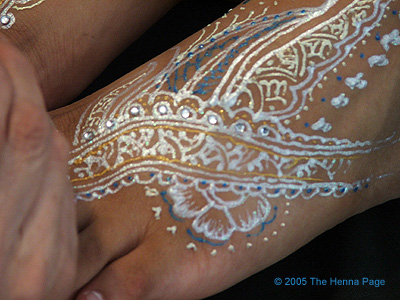 Apply gems with a drop of New Skin, eyelash adhesive, or clear nail polish. Use a rolled cone with a very fine tip to apply the paste. Click here to learn how to make a mylar cone. Thick applications of gilding paste dry slowly, and are prone to flaking and pealing. Spiking gel paste flattens out as it dries.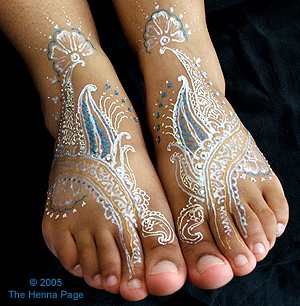 Children too young for henna enjoy gilding paste's bright colors and sparkles.





You can learn to make your own gilding paste at http://www.hennapage.com/henna/how/gilding/gildingpastesmake.html

http://www.stagesupply.com/lumluxe.html is a reliable supplier for Ben Nye Lumiere powder.

Mehandi.com is a reliable online supplier for ready-made gilding paste and gems.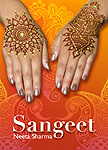 The above pattern is adapted from
"Sangeet" by Neeta Sharma
published by
TapDancing Lizard