Gilding, Glitter and Gem work is a recent popular innovation in Indian bridal technique,
adding dazzle and glamor to henna.
These techniques are spectacular, yet easy to master. In India, these adornments are often called Zardosi because they emulate the fabulous gold embroidered, bejeweled bridal sari fabrics. As upper class Indian wedding celebrations expand to a week or more, the modern bride may wish to have her adornment match two dozen saris or more, with an artist re-applying dazzle twice a day. These transitory techniques can be used on their own, at the time of henna paste application, or to ornament the henna stain. They are designed to be "of the moment", to please the camera's eye, and delight the wedding guests.
If you're working a festival, and you're competing with other henna artists, gilding gems, and glitter will make your henna stand out from the competition! There will always be potential clients who would like to be adorned, but who don't want a lingering stain. Offer them these techniques! There are always little children who want adornment, but
whom you should NOT henna for health reasons
.
Learn how to create your own pastes
and do this beautiful work.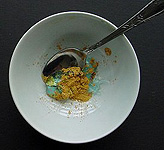 Learn to make gilding pastes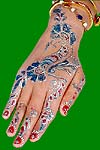 Learn to make glitter pastes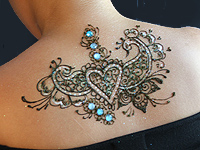 Learn how to apply gems

Learn to Glitter Your Henna
Examples of Gilding and Glitter work: