The WibbleLeaf
1: This is the WibbleLeaf.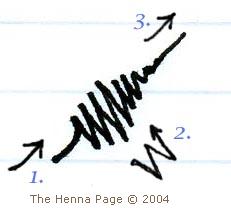 2: You make the WibbleLeaf by wiggling (wibbling) the
tip
of the henna cone back and forth and then pulling it away quickly, leaving a little tail. If you have stringy henna paste, or add monosaccharides to your henna mix, you will be able to pull little tails off your WibbleLeaves.


3: Make parallel slanting lines, and see if you can make WibbleLeaves with perfect wibbles and little tails.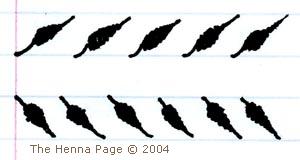 4: Practice your upward and downward WibbleLeaves over and over until they all have perfect fat wibbles, and neat little tails.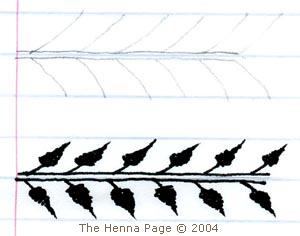 5: Make pairs of WibbleLeaves from a straight stem. Practice wibbling for speed and accuracy.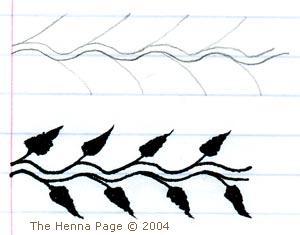 6: Alternate WibbleLeaves from a winding stem. Make them fit neatly on the curves.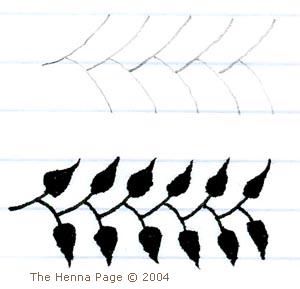 7: Fling WibbleLeaves. Practice for speed and accuracy.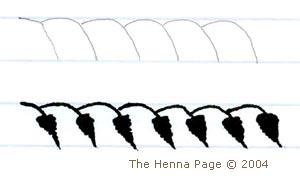 8: Drape WibbleLeaves.

9: Increase and decrease WibbleLeaves.


10: Wind decreasing WibbleLeaves around a spiral.

Ready to do some WibbleLeaf patterns?
Click on the WibbleLeaf Patterns below
for full size images!
!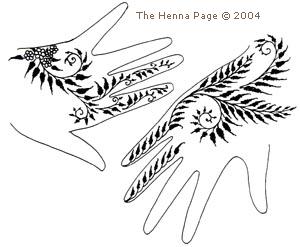 Go back to the Index of Henna Pattern Elements
Can't find what you want here? Go to the Main Index


Want
beginning and intermediate level henna
pattern books ?
Go to TapDancing Lizard for Great Pattern Books!