The Henna Color Chart


Alex Morgan for The Henna Page ©2004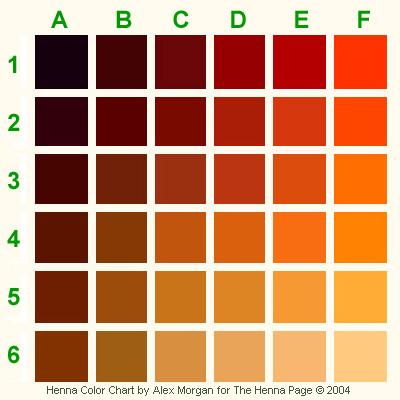 This is a chart of henna stain colors.



The henna stain on your skin will look different because




henna is a translucent stain, blending with your skin tone.





Henna artists often want to talk about their henna stain color, and Henna Page is providing this chart to facilitate this discussion.


If you need to describe a color, compare it to this chart, and people will know what you're referring to!




Henna has a dye molecule, Lawsone, also known as hennotannic acid.
This molecule breaches and saturates the topmost layer of your skin, staining the skin cells.

There are many factors that affect the stain color henna leaves on your skin.
Your skin may be naturally alkaline or acidic
.
Alkalies oxidize the stain to a darker color.
Your skin may be naturally alkaline, or may be exposed to an alkaline.

Some parts of your skin take up more dye than other parts
.
Thin oily or newly formed skin takes up less stain than thick, corneated skin.

Different hennas have differing amounts of Lawsone
,
Some henna powders have high dye content. Some don't.

There are many things which affect a henna's Lawsone level: climate, soil, processing, and storage.

Different mixes and applications release differing amounts of Lawsone
If you have a mix that facilitates dye release, you'll get the most stain from your henna
Different temperatures affect dye release, skin saturation, and oxidation.
Different durations of applications affect skin saturation.