How do you get fine lines and delicate patterns with mylar and cellophane cones?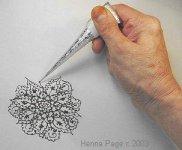 Roll a mylar cone from Henna Page "how" instructions!
A long, thin cone is more useful for ultrafine work than a short, wide cone. Keep your finger down on the mylar as you twirl, so you get a very tight, needle-like point. When your cone is taped, filled, and ready to go, razor blade off the tip until you can squeeze out the size line you want.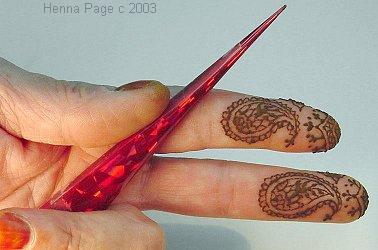 Sift and strain your henna, or use very finely sifted powder! Clogs will really mess up your fine work! Use sugar in your henna mix to smooth it out and keep the henna from cracking. You may find that a few minutes after your start working, the henna will begin to flow more smoothly, when it gets warmed a little from being in your hand! Patterns this delicate often don't last long, because the tiny amount of henna dye in these little lines doesn't penetrate as deeply or get as dark as thicker henna lines which contain more dye.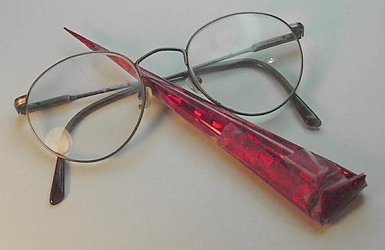 Get out your best pair of glasses, or use an embroiderer's desk magnifier unless you have wonderful, young eyesight. Many people purchase a pair of non-prescription reading (magnifying) glasses to help them do tiny patterns.
Henna Page Artists do fine, delicate henna work with cones!
Jewel, of Singapore, did this beautiful finger patterning with cellophane wrap cones! You can see more of her work on her website!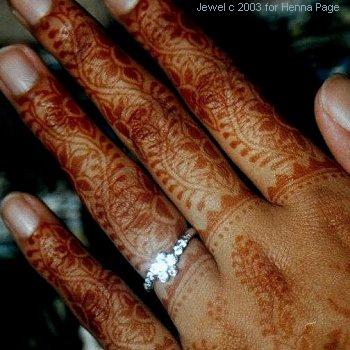 Catherine Cartwright-Jones does fineline work with Mylar Holowrap cones.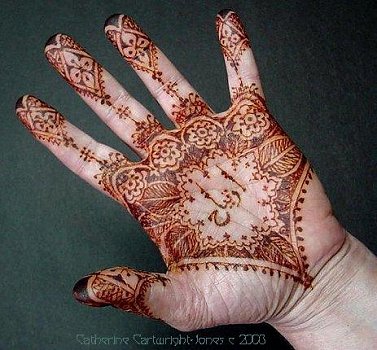 All text and images on this page
unless otherwise cited
copyright 2003
all rights reserved
Catherine Cartwright-Jones
The Henna Page

Still can't find what you want? Try The Henna Page Main Index.