Bridal Henna
by Jewel, for Henna Page, c 2003
copyright registered with US Library of Congress, all rights reserved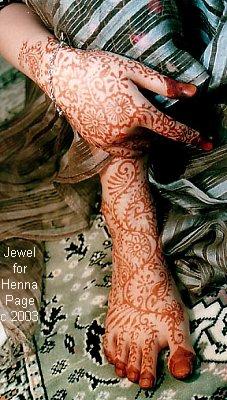 Bridal work can be so much fun! It is nice to know that you are a small part of such an important event in someone's life. Bridal henna work is a little different from doing henna at fairs, parties and such. In the former, the artist's concentration would only be on the bride. Be informed if there are other people who want to be hennaed on that day. If the hosts expect their guests to be hennaed, it is good to have another artist to assist you while you concentrate on the bride.
Bridal henna patterns are essentially detailed, intricate and complex. A lot of experienced henna artists have little trouble executing very detailed and intricate patterns on themselves or others. In applying bridal henna, the artist has to be able to do this on traditionally six body parts in one sitting: the top of both hands, two palms and the top of both feet, plus finger and toe tips, if the bride asks for it. You can take anywhere from 1.5 to 6 hours to complete a full bridal job, depending on intricacy of design and experience of the artist. My first bridal work, on my best friend Rina, took 6 hours to complete. Now I work anywhere between 1.5 – 3 hours. The ability to speedsling is indeed a very treasured skill in doing bridal work.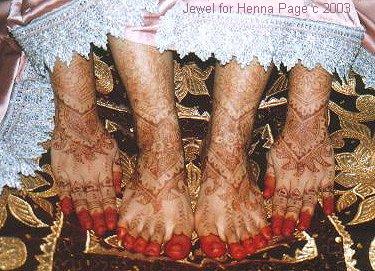 Rina's bridal mehndi by Jewel
Patterns and portfolio…
Bring along a portfolio of your work or pattern books for the bride to choose patterns from. There should be a range of different styles: Indian, Moroccan, Arabic, modern, and maybe, even a tribal collection or two, for the less traditional bride. After a certain style is chosen, try to do a variation of the selected pattern. This way, you push the boundaries of your own creativity and expand your portfolio at the same time.
Positions…
Your sitting position, with respect to the bride's is important, more so for some than others. Both of you will be sitting in the same place/position for some time and it would be a good idea to find a comfortable position to prevent your backs, necks and legs from aching. It would also do both parties good to stretch once in a while.
Personally, I find that the best position is sitting face-to-face with the bride. It helps to have a good rapport with your client too! If you're sitting on the floor, make sure both of you are sitting on semi-hard cushions and that your back is straight and not contorted or twisted. Use a short stool or hard cushion for her to place her hand. The stool/cushion should be high enough so that you don't have to bend your neck too much. The idea is to make sure that your back is in a comfortable position at all times and you're not bending down too much.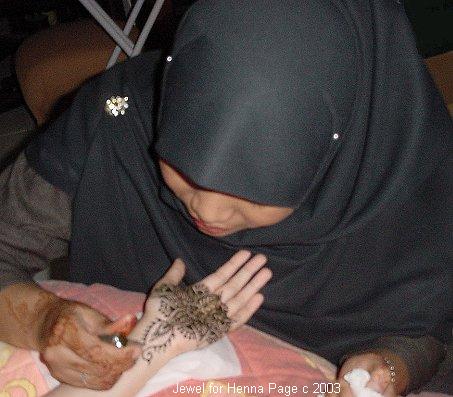 Find a comfortable position for yourself to avoid back and neck aches
Getting started…
A little planning on which zones to start first would help you tremendously and minimise smudging accidents. I always start drawing on the top of hands first. Then I do the feet and the palms last. The skin on the top of the hand is sometimes the hardest to stain so I like to leave the paste on longest there. By the time you get to the palms, the tops will be dry. The bride can then rest her hand on the cushion as you work on her palms. If the design goes all the way up the forearm, start drawing the pattern from the wrist, up the forearm and then work your way towards the fingers. This is to prevent smudging of the finger/palm patterns as you progress.